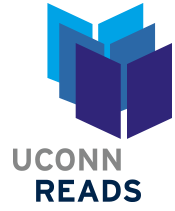 The University of Connecticut's UConn Reads program has been created to bring together the University community – from students, faculty, and staff to alumni and friends of UConn, as well as citizens of Connecticut – for a far-reaching and engaging dialogue centered on a book suggested by the community.
We invite you to join us in reading this year's book of choice and, over the coming year, participating in the conversation through an exciting series of discussion groups and other events and activities hosted by the University. We look forward to what is sure to be a stimulating and fulfilling conversation.
Small Grant Competition for Campus Programming (UConn Reads)
Academic departments as well as all units at Storrs and the regional campuses are invited to submit requests to the small grant competition for UConn Reads programming that will take place in the 2016 Spring Semester. UConn Reads programming is wide-ranging, and includes speakers, exhibitions, films, performances, and other events. Please stay tuned for updates!!
UConn Reads 2015-16 Selection: Michelle Alexander's The New Jim Crow
Published in 2010, The New Jim Crow has received considerable acclaim and has been labeled by Cornel West the "secular bible for a new social movement." Consistent with the overall mission of UConn Reads as an initiative intended to galvanize thoughtful discussion and worthwhile debate, and in line with this year's focus on "race in America," The New Jim Crow is evocative, provocative, stimulating, and compelling.
Authored by civil rights lawyer and legal scholar Michelle Alexander, The New Jim Crow challenges the idea that race-based discrimination (epitomized by Jim Crow segregation) ended with the civil rights movements of the 1950s and 1960s. Arguing that the War on Drugs – which began in the 1970s – disproportionately targets men of color and has given rise to a growing "racial caste system," Alexander calls for a new way of seeing mass incarceration not as a criminal issue but rather as a crisis of racial justice and civil rights.
For the complete story, please access the following link:
http://today.uconn.edu/2015/09/uconn-reads-our-book-the-new-jim-crow/
 

UConn Reads 2015-16 Theme:  Race in America
For the 2015-2016 academic year, the UConn Reads Steering Committee has selected the following theme: "Race in America." This particular frame is both provocative and poignant, especially when set adjacent various current events (like Ferguson, Baltimore, and #blacklivesmatter) and situated within the context of several significant anniversaries, which include the fiftieth anniversaries of the March on Selma and the subsequent passage of the Voting Rights Act of 1965. 2015 is also the fiftieth anniversary of the 1965 Immigration and Nationality Act, which removed – for the first time in U.S. history — race-based, nation-based quotas from immigration law.