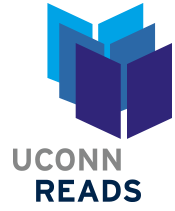 The University of Connecticut's UConn Reads program has been created to bring together the University community – from students, faculty, and staff to alumni and friends of UConn, as well as citizens of Connecticut – for a far-reaching and engaging dialogue centered on a book suggested by the community.
We invite you to join us in reading this year's book of choice and, over the coming year, participating in the conversation through an exciting series of discussion groups and other events and activities hosted by the University. We look forward to what is sure to be a stimulating and fulfilling conversation.
Up Next! January 27th: "Just Food! Or Is It?"
Time: 6:30-8:00 PM
Location: UConn Sprague Hall basement Lounge
Coordinators Contact: Dr. Richard Parnas, EcoHouse Faculty Director rparnas@ims.uconn.edu  and Julia Cartabiano, Farm Manager, UConn Spring Valley Student Farm Julia.cartabiano@uconn.edu
This event will explore the multiple implications of how our eating habits impact the environment, society and personal health. It will focus on Chapter One of Michael Pollan's The Omnivore's Dilemma – Corn. We will have 3 stations manned by 3 faculty members each representing one aspect that the food system impacts: environment – Dr. Karl Guillard; society – Dr. Phoebe Godfrey; personal health/nutrition – Dr. Hedley Freake. We will have healthy and less healthy food choices for students to try that fit with the themes of the discussions and demonstrate some of the ways the corn food system connects in their lives. In addition we will offer suggestions for making positive changes in our eating habits utilizing options available at UConn.
Sponsors: UConn Reads Steering Committee, EcoHouse Learning Community, Spring Valley Student Farm and UConn Dining Services
Contributing Groups:  Real Slow Food at UConn, EcoHusky and EcoGarden
Exhibitions, Talks, Meals, and More: An Exciting Semester of "Omnivore" Programming
The Steering Committee is pleased to present an exciting array of programming related to our book, The Omnivore's Dilemma. The Benton Museum of Art inaugurates our programming on January 23rd with "Sweet Sensations," an exhibition of contemporary art reflecting on the seductive powers of sugar. The exhibition will run through March 29th. The students of Eco House will sponsor "Just Food! Or Is It?" on January 27th, 6.30-8.00 in Sprague Hall. Participants will have a chance to try different foods and discuss the ways that the corn food system connects with their lives.
On February 4th, the Contemporary Art Galleries in the Art Building will launch "The Omnivore's Dilemma: Visualized" and hold a related symposium at 4.00 pm. This exhibition will present a different take on the book, with contemporary art that engages the culture and politics of food production. A panel discussion on the 4th will feature contemporary artists and scholars, including Dr. Jennifer Harris of the Rudd Center for Food Policy and Obesity. We'll dig into the debates surrounding food when Dr. Jayson Lusk, author of The Food Police: A Well-Fed Manifesto About the Politics of Your Plate (2013), discusses his alternative vision for the future of food at the Student Union, 7 pm, February 25th. Please consult the University calendar for information about additional events taking place at Storrs and the regional campuses this semester.
A Novel Group of Huskies
The Alumni Association sponsors a book club that reads the UConn Reads selection each year as well as two other books, chosen by reader vote.  It's a great way for alumni and the larger UConn community to participate in UConn Reads.  Interested readers can sign up and follow the blog.
UConn Libraries Publish Reader's Guide to The Omnivore's Dilemma
The library has published an online reader's guide to The Omnivore's Dilemma.  It includes reviews and responses to the book, links to Michael Pollan's website and interviews, related readings, and other resources.
Our Book, The Omnivore's Dilemma
Since its publication, Michael Pollan's The Omnivore's Dilemma: A Natural History of Four Meals (2006) has sparked a national conversation about American ways of eating and their impact on our health and environment. With our passion for the environment, health, and human rights, the UConn community is ready for a wide-ranging debate about the culture, politics, and science of eating. Read more about our book selection on UConn Today.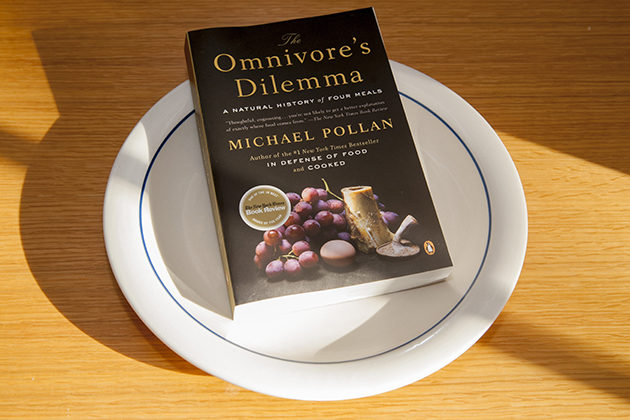 The UConn Co-op will carry The Omnivore's Dilemma at a discount. The book is available in eBook format as well. To follow the UConn Reads conversation on Twitter, use the hashtag  #UConnReads.