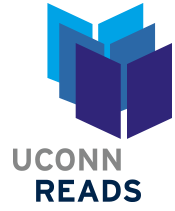 The University of Connecticut's UConn Reads program has been created to bring together the University community – from students, faculty, and staff to alumni and friends of UConn, as well as citizens of Connecticut – for a far-reaching and engaging dialogue centered on a book suggested by the community.
We invite you to join us in reading this year's book of choice and, over the coming year, participating in the conversation through an exciting series of discussion groups and other events and activities hosted by the University. We look forward to what is sure to be a stimulating and fulfilling conversation.
2014-15 UConn Reads Nominations
For the 2014-15 academic year, the UConn Reads Steering Committee is inviting submissions for the following nomination category: "A book that changed my life." Nominations can be non-fiction or fiction, and may come from any genre, including, for example, biography or autobiography, history, essays or speeches, fantasy, science fiction, poetry, folklore or mythology, literary fiction, drama. The one genre we are excluding is self-help or self-improvement books.  While these books undoubtedly help many of us make changes large and small in our lives, we are in search of a book that has inspired a sense of deep emotional, social, intellectual or spiritual connection in readers and has caused them to transform their lives in unusual or unexpected ways.