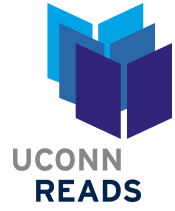 The University of Connecticut's UConn Reads program has been created to bring together the University community – from students, faculty, and staff to alumni and friends of UConn, as well as citizens of Connecticut – for a far-reaching and engaging dialogue centered on a book suggested by the community.
We invite you to join us in reading this year's book of choice and, over the coming year, participating in the conversation through an exciting series of discussion groups and other events and activities hosted by the University. We look forward to what is sure to be a stimulating and fulfilling conversation.
UConn Reads 2018-19 Selection: George R.R. Martin's A Game of Thrones
 
     This image, created by Yesenia Carrero (UConn Illustration) originally accompanied a story published by UConn Today on
     November 1, 2017.  That story, authored by Elaina Hancock (University Communications), was titled "Winter is Coming  
     — Just  How Bad Will It Be?" and can be found at the following link: 
     https://today.uconn.edu/2017/11/winter-coming-just-bad-will/.
By Cathy J. Schlund-Vials (Chair, UConn Reads Selection Committee)
This year's UConn Reads program has shifted its sights to encompass a wide-ranging, imaginative, and highly popular genre. Specifically, the UConn Reads initiative has selected science fiction/fantasy as its focus for this year's program. As incredibly popular genre, science fiction/fantasy is both capacious in its readership and far-reaching in its themes. As important, the genre is, more often than not, a reflection of contemporaneous dynamics and politics. It is also a powerful projection of a futurity that is at times wondrously utopic (such as Edward Bellamy's Looking Backward, published in 1887) and at other times distressingly dystopic (like Margaret Atwood's The Handmaid's Tale, which has recently been adapted into an Emmy award-winning series on Hulu). While some may dismiss science fiction/fantasy as merely the "stuff of dreams," it was precisely the genre's capacity to be relevant in multifaceted ways that made it an ideal focus for the UConn Reads program, which carries this provocative mission and evocative vision:
Engage our campus and extend community in an enriched and focused reading experience
Generate discussions and exchanges of diverse ideas
Promote learning connections among students, faculty, staff, alumni, and the wider community
Bridge learning experiences inside and outside the classroom
Create community by enabling students to generate discussions with each other and with staff, faculty, and the citizens of Connecticut
As in previous years, UConn students, alumni, staff, and faculty were invited to submit book nominations. The nomination process concluded in late May 2018. After considerable thought and careful consideration, the UConn Reads Selection Committee chose George R.R. Martin's A Game of Thrones, the first novel in a multivolume series titled, A Song of Fire and Ice. Originally published in 1996, A Game of Thrones received immediate acclaim. Told from multiple points of view and focused on numerous power struggles, critics praised Martin's narrative for its complex negotiation of familial conflict and politics.  A Game of Thrones was the recipient of the 1997 Locus Award and nominated for the Science Fiction and Fantasy Writers' annual Nebula Award. In 2011 — the same year that the UConn Reads initiative was launched by President Susan Herbst — the novel's popularity was reinvigorated when it was adapted for the small screen (HBO's Game of Thrones, which is ending its very successful run in 2019).
Please stay tuned for what promises to be an exciting UConn Reads program — as always, the committee welcomes suggestions from the UConn community concerning possible events and features. Please direct those suggestions directly to the UConn Reads Selection Committee chair at the following email address: cathy.schlund-vials@uconn.edu.